Versatile – By Necessity
Freinademetz had many talents but he was not a genius. If we go through the data of his
life and the list of his various ministries, however, bearing in mind that he was far too
conscientious to do things by halves or rely on improvisation, it is apparent that he was
enormously industrious. His tenacity and his ability to manage with relatively little sleep
were a distinct advantage. The needs of the moment, i.e. mainly the lack of personnel, to
say nothing of trained personnel, and not least his unquestioning obedience to John
Baptist Anzer, often obliged him to undertake activities and occupy himself with topics
that he would certainly not have chosen.
Personally he liked most to be with the catechumens and neo-Christians; with them he
positively bloomed. He was heart and soul a pastoral minister. Yet he hardly once had
the chance to remain in one place or one area longer than two years at a time. Time and
again the bishop sent him on visitations that required detailed written reports. If there was
a new area where the Church was to take root, the bishop found no one better to send
than him.
For a time he directed the catechists' courses, and for one year the major seminary, as
well. The first diocesan synod had to be prepared and suitable topics worked out.
Following that, the provincial chapter was convened and he once again had to take care
of the written work. The orientation of new missionaries fell to him as did the preparation
of young missionaries for their final vows. He frequently gave retreats. In between all that
he still found time to publish a Chinese catechism and to work out rules for catechists.
Then there were the countless letters to family, friends and benefactors at home, as well
as the brisk correspondence with the general administration in Steyl. Due to his good
knowledge of Chinese, the bishop frequently asked him to take care of the correspondence with local officials.
He had to invest an enormous amount of time in negotiations with Chinese authorities. There were also obligatory visits to Chinese and German officials and diplomats which required the observation of strict rules of etiquette. For one such as he, who felt more at home in a farmer's shack than in a salon, that must have been a special burden.
"Let us remain unafraid in all dangers,
trusting calmly in the divine
Providence that watches over us day and night."
There were great distances to cover with each move, either on horseback or by primitive means of travel. South Shandong was a vast region, the Yellow River often a formidable barrier. There were journeys of up to eighty hours – and Freinademetz had severe health problems at times. It is striking that there is little indication that he felt overburdened or that he did not have enough time for anyone; quite the contrary, all who met him were impressed by his friendliness and the way he devoted all his attention to the one he was talking to. The first Chinese cardinal, Thomas Tien, experienced it himself: "He was always there for others and then he was totally there just for them, completely selfless and forgetful of himself." How did he manage all that?
AT THE SERVICE OF HIS CALLING
Joseph Freinademetz' spirituality was down to earth and integrated. He could incorporate tasks that did not much appeal to him into his spiritual vision and he placed every facet of his life at the service of his vocation. That became evident, for instance, when he explained to his confreres the purpose of the one-month sojourn to the new central house in Taikia: "Our life is too short, our time too precious to lose even a tiny second of it! This month, too, belongs to God, and God will place each of its 720 hours, each of its 43,200 minutes, each of its 2,595,000 seconds on the scale of his justice, and demand an accounting from us." With this admonition to make careful use of time he was by no means referring only to mental or spiritual work: "Nevertheless a really thorough-going rest and recuperation is part of our stay in Taikia. Body and soul are two diametrically opposed things, like fire and water. Still, the one is dependent on the other. When the body no longer cooperates, the soul also ceases to function, its activities die down as when a fire lacks fuel or the electricity for a machine is shut off." He was never at a loss for analogies.
Among the Catechists and Local Clergy
Freinademetz thought a great deal of the catechists. They were the backbone of the mission, as both he and Anzer had learned in Hong Kong: "These catechists get on much more easily than we do. They are Chinese, whereas we are called 'European devils'." In South Shandong they had a kind of double role at one and the same time: if people from a locality expressed interest in the Christian religion, a catechist was first dispatched there to clarify matters and only after that did a missionary go to visit. It could also be the other way round; a foreign priest aroused curiosity and then the catechist remained in the locality to continue the work. The majority of small communities in the villages were headed by a catechist.
THE MISSION OF THE LAITY
Freinademetz regarded the catechists as more than just helpers of the missionaries. To him they were genuine apostles, and as community leaders they shared in the pastoral mandate. In 1893/94, as director of the catechists' training courses, he compiled a rule specifically for them (in Chinese and Latin). There he wrote first of their vocation: "Remember this! God chose you especially from among so many!" He regarded the necessary commission by the bishop as a sign of unity and at the same time a mandate to share in the Church's pastoral and teaching ministry: "When you now go out to proclaim the faith, are you not in truth apostles of Christ? When the people are going astray like sheep without a shepherd, you are to help and pasture them." When we reflect that the majority of the catechists had only been baptized for a few years, we can gauge the measure of trust placed in them. All the greater, of course, was Fr. Freinademetz' disappointment when catechists neglected their duties or gave up their faith.
<![if !word & !ppt & !excel & !vml]>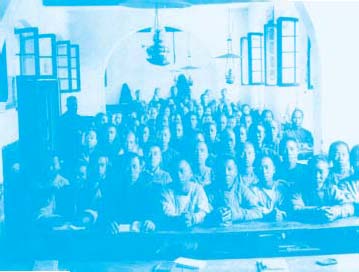 <![endif]>
A catechists' class

He viewed their task within a broader context: "After the time of the great emperors and the great wise men, the old virtues are beginning to disappear in China. Serious-minded persons are looking out for people who, like the apostles of Jesus, preach and show the right path. You, dear Catechists, with your proclamation are the fulfillment of the hopes of many." His efforts with regard to their training corresponded to the great significance he attributed to them. In reference to the time when he was director of the catechists' training course he wrote: "I can say that during the past fifteen years in China I have never been so overloaded with work."

As Administrator after the death of Bishop Anzer, he insisted that the catechists come together for several weeks each year for further training and 'spiritual exercises.'

Joseph Freinademetz was especially close to an elderly catechist named Wang Shuo-sin who had been a Taoist monk. For many years Wang was his secretary and personal adviser. He was particularly indispensable during negotiations with authorities because he was extremely well versed in oral and written communication with officials.

<![if !vml]>