His statement sums up the trust on which his life grounded.
With the same trust, today's 6000 Divine Word Missionaries continue their mission especially:
· In pastoral ministry, in building up and accompanying church communities. Priests and Brothers work together as pastoral ministers and collaborators in the most diverse social projects.
· In the proclamation of the Word of God. As "Society of the Divine Word" they see a special obligation to promote the biblical apostolate.
· In commitment to justice, peace and the integrity of creation. This commitment permeates all individual activities and projects.
In the fields of media, communication and research. Through these the Church's mission as respectful dialogue with all people, following the example of Jesus Christ, will be increasingly deepened and more generally effective.
<![if !word & !ppt & !excel & !vml]>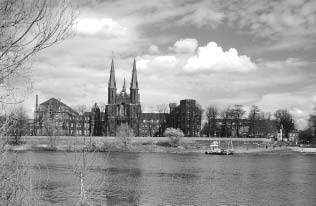 <![endif]>
St. Michael's in Steyl: The Motherhouse of the Divine Word Missionaries (SVD).

Our Missionary Life and Service today

In creative fidelity to Saint Arnold and according to their Constitutions of 1983/2000 and the resolutions of recent General Chapters, the Divine Word Missionaries define themselves thus:

Our Calling

In accordance with the words of Jesus Christ, "Peace be with you! As the Father sent me, so I send you" (Jn 20:21), we are willing to leave our country, language and culture and to go wherever the Church sends us. This availability is the essential mark of our missionary vocation.

Our Society

We are a Catholic religious congregation with lay and clerical members, living in international and multicultural communities. Through this we witness to the worldwide Church and to fraternal relations. Through the vows (poverty, celibacy, obedience) we bind ourselves to this missionary congregation.

Our Mission

We work especially in areas where the gospel has not yet or has only insufficiently been proclaimed and where the local Church is not yet viable on its own. The example of Jesus, the Word made Flesh, guides us as we live out our mission. Open and full of respect for the religious and cultural traditions of all people, we seek dialogue with all and share the Good News of God's love with them. Our particular service is to enter into dialogue with people who:

· do not have a faith community and are Faith Seekers,

· are poor and marginalized,

· are of different cultures and

· are of different religious traditions and secular ideologies.

<![if !vml]>